τρέχοντα!
RainZonanceS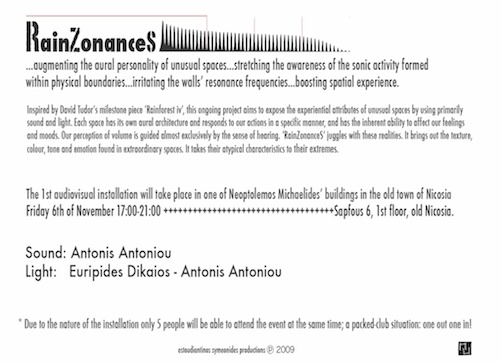 …augmenting the aural personality of unusual spaces…stretching the awareness of the sonic activity formed within physical boundaries…irritating the walls' resonance frequencies…boosting spatial experience.
Inspired by David Tudor's milestone piece 'Rainforest iv', this ongoing project aims to expose the experiential attributes of unusual spaces by using primarily sound and light. Each space has its own aural architecture and responds to our actions in a specific manner, and has the inherent ability to affect our feelings and moods. Our perception of volume is guided almost exclusively by the sense of hearing. 'RainZonanceS' juggles with these realities. It brings out the texture, colour, tone and emotion found in extraordinary spaces. It takes their atypical characteristics to their extremes.
The 1st audiovisual installation will take place in one of Neoptolemos Michaelides' buildings in the old town of Nicosia.
Sound: Antonis Antoniou
Light: Euripides Dikaios-Antonis Antoniou
Friday 6th of November 17:00-21:00
Sapfous 6, 1st floor, old Nicosia
* Due to the nature of the installation only 5 people will be able to attend the event at the same time; a packed-club situation: one out one in! *
estoudiantinos symeonides productions ℗ 2009 / paraplevros productions